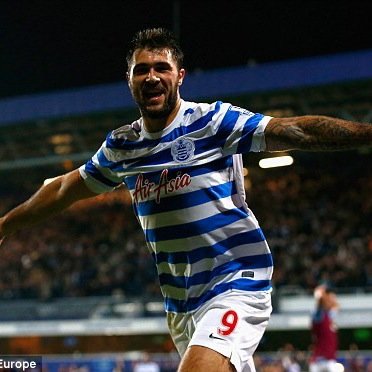 In July I labelled QPR striker Charlie Austin as one of my players to watch moving up to the Premier League from the Championship this season. Well so far he has done a pretty good job of it with 6 goals in 10 Premier League games, something that his teammate Joey Barton thinks, deserves a call up to Roy Hodgson's England squad.
Charlie Austin is 25-years-old and has the privilege of saying he played non-league football on route to the top flight in England. His youth career was at Reading before he was released where tiny North Berkshire side Kintbury Rangers picked him up. Austin scored 20 goals in 27 league matches for Kintbury before a spell with Hungerford Town and Poole Town.
At Poole Town his goalscorer prowess was fully discovered as he tore up the Wessex Premier League with 48 league goals in just 42 matches. His goals earned him a trial at League One Swindon Town where he continued scoring, netting 31 in 54 fixtures in the English third tier. Anyone who follows the lower divisions will have began to hear of Charlie Austin here but most certainly would've seen his rise as he joined Championship side Burnley in January 2010.
In the Championship his goals became a regular occurrence and he netted 16 in the 2011/12 campaign followed by a mightily impressive 25 in 37 the following season. The visit of Charlie Austin to your club always became a dangerous experience and he scored plenty against my beloved Cardiff City that meant upon our promotion to the Premier League in 2013 I was desperate to have him added to our squad.
QPR won the battle for his signature and he fired Rangers to the top flight with 17 goals in just 31 games (the missing matches due to a shoulder injury). This campaign those who had never really heard of Austin certainly have now, his goals leading to many calls for Roy to ditch the out of form 'big names' and reward the likes of Saido Berahino and Austin.
The Daily Mirror carry the quotes from the widely despised midfielder Joey Barton who himself has 1 England cap. Barton says about his Rangers teammate: "If he keeps scoring goals that does all the talking for him… Chas is a natural goalscorer. Saido Berahino is of a similar ilk. He just scores goals. And that's what the game is about. It's an art form. For him, whatever level he does it at it doesn't faze him."
His QPR manager Harry Redknapp is also full of praise for his striking talisman: "He's a great lad and appreciates being a footballer. He's a fantastic boy, he really is. You can see he's a goalscorer. He keeps working at his game, keeps improving. He wants to learn." Redknapp added to the calls for him to be given an England chance: "It gives him a chance. Roy has seen him here. He'll make a decision whether he's up to it. He's got to keep scoring goals and if he keeps doing that then he's got a chance.''
England supporters, do you think Roy Hodgson should give 25-year-old Austin his shot at the big time for his country?
(Picture: Charlie Austin's Twitter)